York St John University Dance Students are starting their tour of 'Sparkies'; a short work we had the pleasure of choreographing earlier this year!
We received a fantastic write up of our premiere of 'The Mesmerist' by Unknown Magazine.
"In a surreal world, we recognise human feelings of mischievous and moving friendship, and a dazzling beauty that has the power to strike wonder into us all."
Read the full review here: http://unknownmag.co.uk/theatre/review-slap-festival-the-mesmerist/
Photo Credit: Elly Welford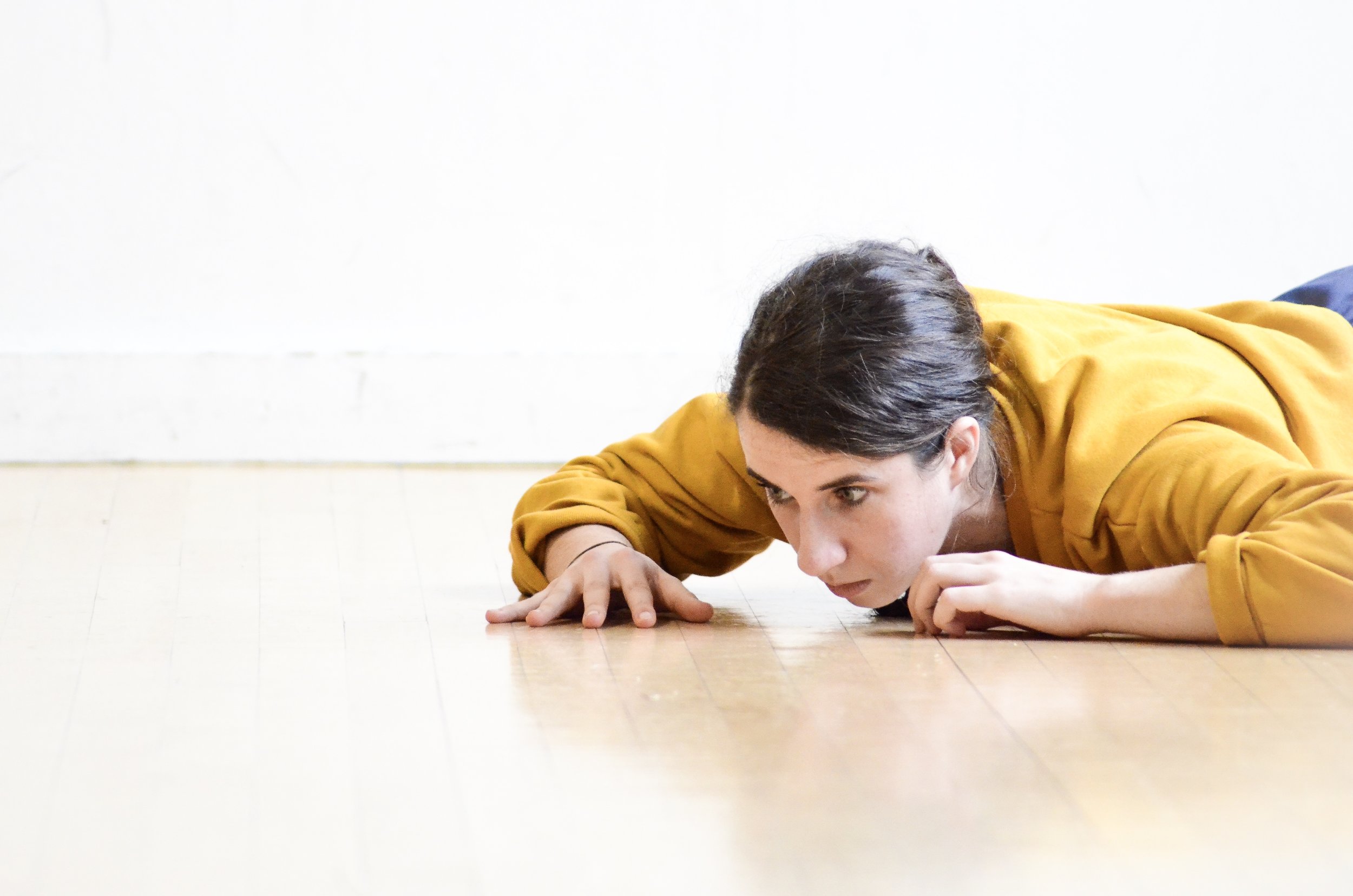 January saw the beginning of our newest production 'The Mesmerist'. Joined by the fabulous Katy Hewison (pictured) and NSCD student Elly Welford, we delved into creating the magical world that encompasses the work.
Rehearsals saw us in various parts of Yorkshire: from old mills in Halifax to city centre in Leeds and the more suburban life in York!
We were joined by mentor Geoff Colman and our composer Jonathon Deering; both of them travelled across the country from the South to be immersed into the weird yet wonderful world of Northern Rascals.
February begins back in York Dance Space in preparation for our premiere on 23rd February at York Theatre Royal…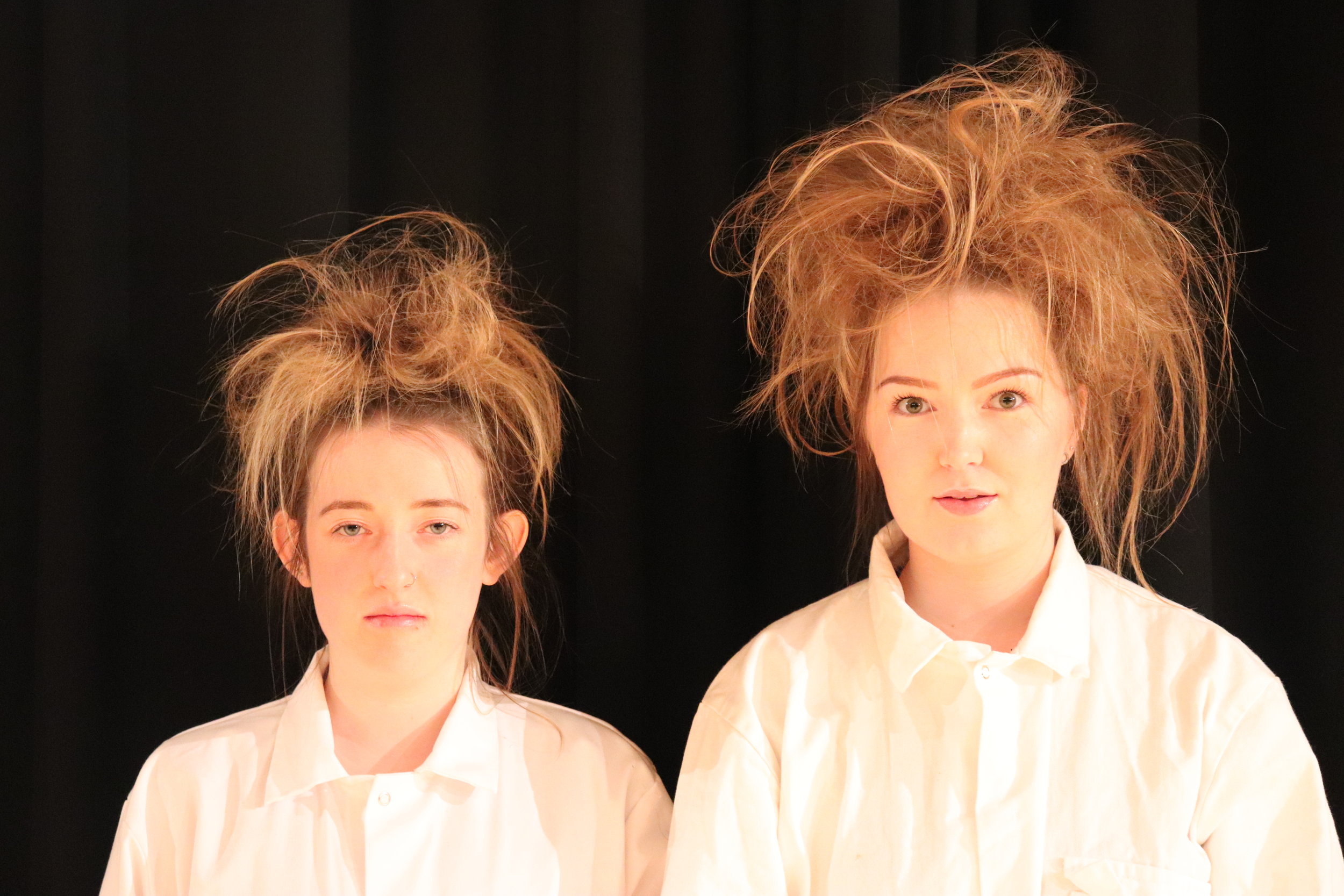 The second week of January brought us to the beautiful York St John University, where we were commissioned to create a new 20-minute work on the 3rd year Dance cohort.
In just 5 days, we created 'Sparkies'; living in the world of The Mesmerist, the humorous work looks at the daily tribulations of the workmen of the mythical world. Tasked with cleaning and maintaining the precious lamps, the audience witness what occurs when disaster happens: the lamp breaks…
So what happened in 2018?
We were awarded Arts Council England funding for Dearest Daisy.
Along with 11 artists, we created a full-length show and performed to sold-out audiences in Bramley Baths.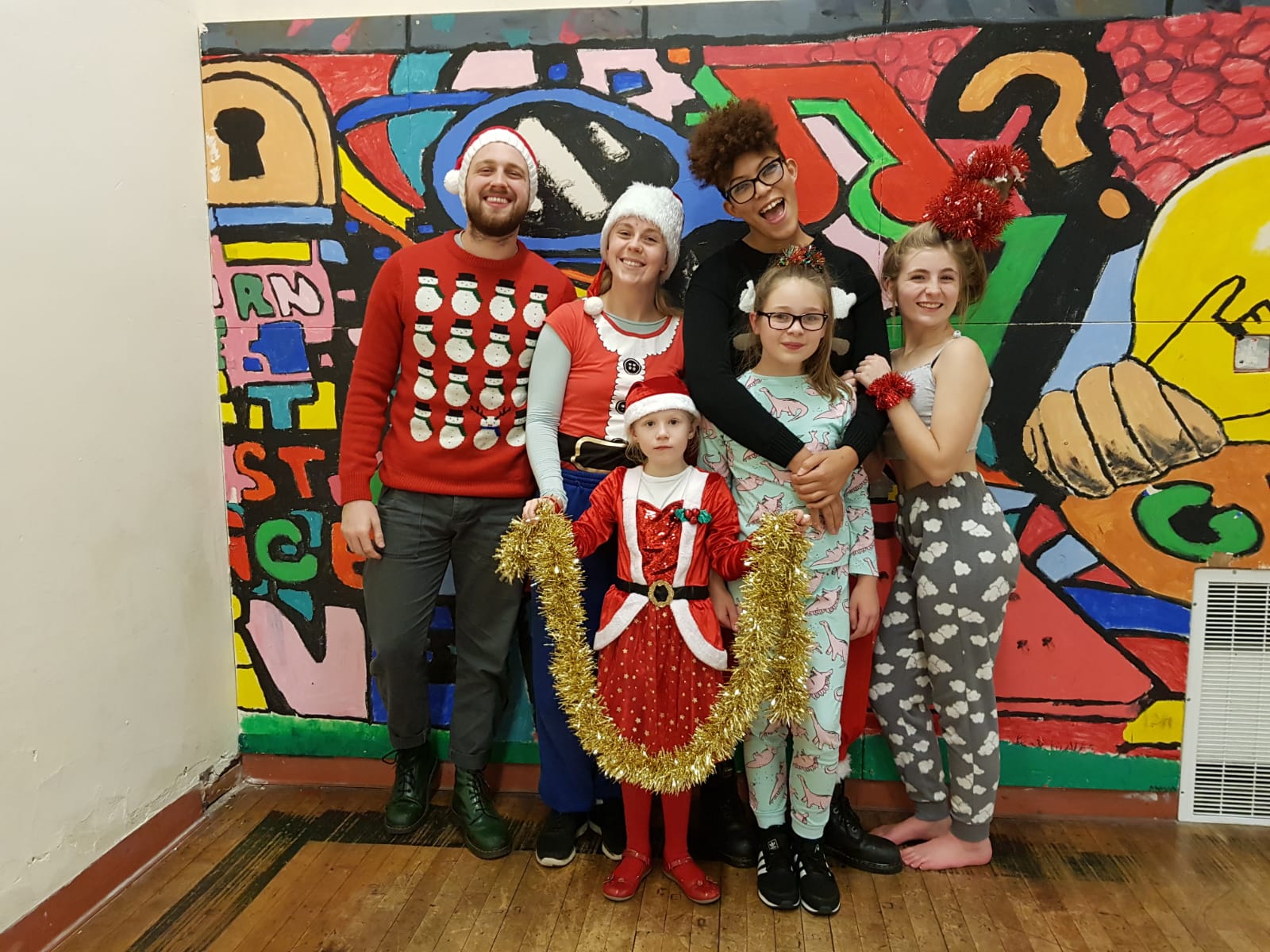 We now have 5 weekly regular classes running.
4 at Bramley Baths
1 at Mixenden Activity Centre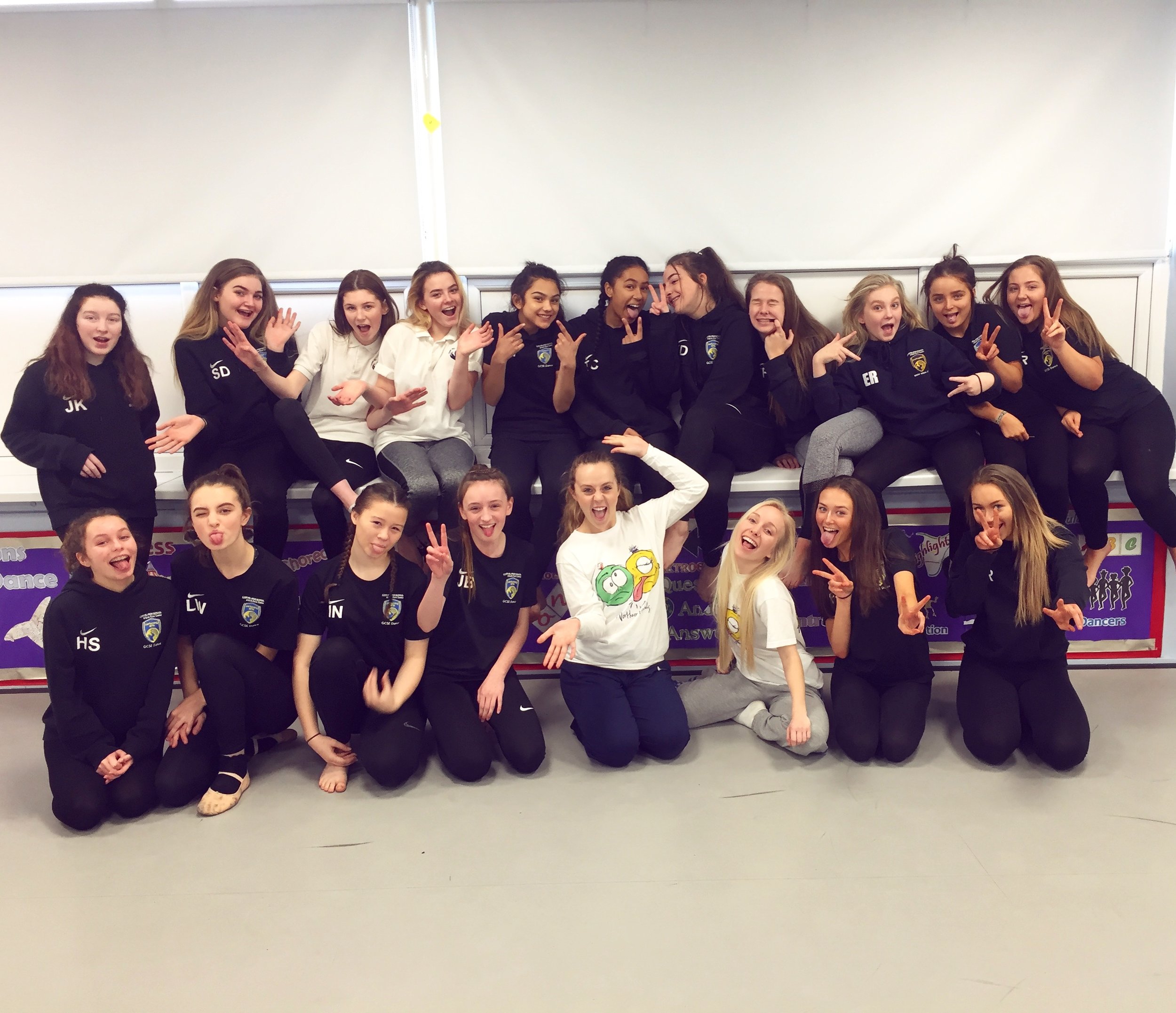 We taught 25 workshops across the country to around 750 participants.
Northern Rascals are seeking performers for upcoming projects in 2019, we have professional and apprentice contracts available. Please click link for details on how to apply!
** REVIEW **
We are thrilled to have been mentioned by the Dancing Times - Britain's Leading Dance Monthly in David Mead's fantastic review of Birmingham Dance Network 'Introducing...'
"Their Introducing…, at Vivid Projects, an atmospheric converted warehouse space deep in the old industrial heartland of Digbeth, proved the most interesting evening of the three weeks. Three works stood out. Northern Rascals, a duo consisting of Sam Ford andAnna Holmes, presented 2 Peas, which follows the complex relationship between sisters. Holmes and Stéphanie Bentley made great use of a wide range of clothing and footwear as they laughed, fought and made up in a very truthful look at life."
Come along and support our acclaimed cast of seven dancers and a trio of opera singers who will be making a SPLASH with our special water-based performance!
Interpreted through a mixture of poetry, contemporary dance and live music, 'Dearest Daisy' is a rare opportunity for the community of Bramley and beyond to experience the transformation of this space as it is brought to life through the beauty of this unique and acclaimed show.
When: Saturday 11th August - 4pm & 7pm
Where: Bramley Baths
Tickets: Standard: £7.50 Concession: £5
For full details of ticket pricing, please book via email at northernrascals@gmail.com. Or visit Bramley Baths in person or book by phone on 0113 256 0949!
On Friday 27th April, we performed alongside a host of other artists at SLAPmoves. The evening was an opportunity to showcase new works and to win a selection of prizes; we are absolutely delighted to announce that Northern Rascals won the Judges Award which included prizes of £500, 4 weeks rehearsal space and performance opportunities! We are so grateful to all involved, it was an honour to perform at the wonderful venue of York Theatre Royal infront of such a warm and welcoming audience. Thank you.
Friday 27th April - 7:45pm - York Theatre Royal - £5
We'd love it if you came to support us at SLAPMOVES!
SLAPmoves is all about emerging performance from the next generation of pioneering talent. We have been invited along five other graduates of theatre and dance to present new work that uses movement. Each company will be competing to win a prize package that includes cash, rehearsal space and performance opportunities. The winner will be chosen by you, the audience and a panel of industry professional judges. So please come down and support us Northern Rascals!
Book tickets below:
https://www.yorktheatreroyal.co.uk/event/slap_moves.php#.WtePy4jwZPa
We are super excited to have been asked to perform both outdoor and indoor versions of 'Like Rumours of Hushed Thunder' at Emerge Festival in Cannock Chase on Saturday 21st April. Curated by Hawk Dance Theatre, the young people of Cannock Chase will be presenting a day of performances, workshops and activities to celebrate the life and works of Shakespeare!
Come and join us in on 21st April at Cannock Library and Museum of Cannock Chase for a day of theatre, dance, poetry, music, arts & crafts and FUN!
Did we mention that it's all for FREE?
More info here:
http://www.staffordshire.gov.uk/Emerge2018
We are thrilled to have been selected to perform as a part of COLLIDE in Leeds City Centre on Friday 6th April. Between 11-3pm, we will be taking over the streets of Leeds, dancing alongside many other great companies such as Company Chameleon and Hawk Dance Theatre.
The event supported by Leeds Inspired is particularly important as it is celebrating boys in dance. Therefore we have reworked an excerpt of 'Like Rumours of Hushed Thunder' with two fantastic male dancers.
More details are to come soon but if you're at Trinity Leeds, Victoria Leeds or Kirkgate Market, I'm sure you'll see a rascallion or two there...
Follow us on Facebook for more regular updates!
Like Rumours of Hushed Thunder
Mon 12 March, 7:30 pm, £6
Come see our new work at this event at Omnibus Theatre, Clapham, London!
Dynamic and talented theatre makers perform new work in front of an audience, often for the very first time. Engine Room puts you at the heart of the creative process – these artists want to hear what you think. Be part of the conversation.
Click Image for more details!
SQ Scratch:
Like Rumours of Hushed Thunder
Wed 14 Mar, 7:30pm at Copper Auditorium
Tickets: £3
Our Scratch Night is a chance for you to experience snippets of new work from some of the most promising performance-makers in the region. A safe place for artists of all disciplines to informally showcase their ideas in front of a live audience; it's about being bold, pushing boundaries and finding different and innovative ways to make exciting new performance.
Click image for more details.
We have no current opportunities as of yet.
However we are always interested in hearing from dancers, collaboraters, musicians, writers (anyone!) so send over a message to northernrascals@gmail.com to start a conversation!